Are you looking for a way to update your backyard, creating a functional space you can't wait to come home to every day?
Adding an outdoor swim spa may be the perfect place to begin!
These amazing modern spas offer a robust range of benefits and have exploded in popularity in recent years, for good reason.
Not only do they offer a premium swimming experience, but they provide soothing hydrotherapy to treat aching muscles.
They're the perfect hybrid between a pool and a hot tub in a sleek, compact size fit for nearly any backyard!
Keep reading to discover everything you need to know about how an outdoor swim spa can transform your life. We're going to explore some of the best swim spa benefits, give you some simple steps to help you find your dream model, and highlight some stunning options to consider.
And because outdoor swim spas do so much more than offer a stationary swimming experience, you'll find some beginner body-weight exercises that are perfect for swim spas!
Ready to dive in?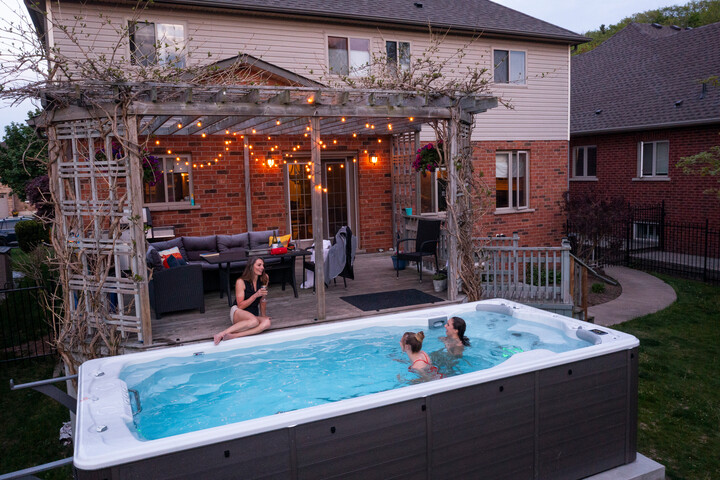 7 Top Benefits of Outdoor Swim Spas
Because swim spas combine the benefits of swimming with those from hydrotherapy, there are many positive effects swim spas can have on both your health and your lifestyle.
Health and Wellness Benefits of Swim Spas
Between the warm water, hydromassage, and joint-friendly exercise, swim spas boast a surprising range of health benefits that have left people raving.
While we certainly can't list them all, below, you'll find some of the most notable ones you could experience.
Reduced Pain
One of the most coveted health benefits of swim spas is how they can affect pain in your body.
This happens through a unique mixture of factors, such as:
Increased circulation
Buoyancy
Massage
Whether you're using your swim spa for exercise or are enjoying a moment of reprieve as you treat yourself to a massage in the hot tub seats, your swim spa can improve your pain over time.
While the warmth of the water helps open your blood vessels, allowing for better blood flow, the buoyancy of the water reduces the weight your joints experience.
When paired with a deep tissue massage from the jets, your muscles will be eased into relaxation, reducing tension throughout your body.
Improved Heart Health
Swimming is a powerful cardiovascular exercise, improving heart health simply by getting you active and giving your heart a good workout.
But that's not the only way a swim spa improves your cardiovascular health.
The warmth from the water alone can help support a healthy heart!
While you're in the warm water, your body temperature rises, forcing your heart to beat faster as it attempts to regulate your body temperature. This is essentially a mini workout for your heart.
Furthermore, the increased circulation mentioned above also helps improve your heart, allowing it to pump your blood more effectively throughout your body.
Faster Recovery
Have you ever woken up the day after a workout in pain or with stiff muscles?
This is a common result of working out when recovery is skipped over. Proper recovery after an intense workout can take upwards of 15 minutes, and not everyone has time for that if they have a busy schedule.
With a swim spa, you can add recovery right into your workout.
While the warm water will help improve your mobility and reduce muscle strain, you can easily incorporate a post-workout massage simply by floating back into one of the seats before continuing on with your day.
Better yet, as the jets target your aching muscles, they're improving blood flow to them, reducing the risk of any pain or stiffness further!
More Restful Sleep
Lastly, outdoor swim spas can be a helpful step in your evening routine.
If you struggle with sleep, adding a quick swim into your day, or a session in the hot tub seats half an hour before bed, you might find you're falling asleep faster and staying asleep longer.
The change in your body temperature signals to your brain that it's time to sleep, which can result in you having an easier time falling asleep.
LifeStyle Benefits of Outdoor Swim Spas
While the health benefits alone are enough to pique our interest, the lifestyle benefits are equally as intriguing.
Year-Round Swimming
Whether you hate having to switch your workout routine to the indoors once the snow hits, or you simply want to enjoy a swim in the middle of winter, an outdoor swim spa can help.
With their heated water, you can enjoy your swim spa 365 days a year.
Better yet, it's a great way to keep your kids active throughout the winter, while also helping them get outside throughout the cooler months.
Easily Accessible
Not only does this save you from taking your workouts inside for winter, but it also removes the need to drive to the gym!
With an outdoor swim spa, there will be no need to wait in line for a lane to open at your gym or skip days because of heavy snowfall.
Instead, you can maximize your workout time by cutting out the drive and stepping into your backyard instead!
Improved Quality Time
Possibly one of the best benefits of all, outdoor swim spas can give your quality time with loved ones a boost, providing a relaxing environment to bring everyone together.
Not only does it help keep technology at bay while you catch up with your kids, but there's no better way to end a day than watching the stars as you enjoy a side-by-side hydromassage with your loved one.
What To Consider When Buying an Outdoor Swim Spa
There's no denying that buying a swim spa is an investment, and it's important to know the one you choose can meet your needs, leaving you thrilled with your purchase for years to come.
Before you settle on an outdoor swim spa, there are a few things to consider.
1. Your Budget
First and foremost, you'll want to consider what your budget will be, just like any other significant purchase.
A little-known fact about buying a swim spa is that, with the right dealership, you actually don't have to face a large upfront payment when you buy yours.
Instead, you can consider financing options to make it more affordable, leaving you with a more reasonable monthly payment instead.
2. The Size of Your Backyard
While swim spas offer a compact swimming experience, they still require the right amount of space to complement your backyard space.
Before you begin exploring your options, measure your backyard and consider what size would work best for you.
You'll want to make sure there is enough room for you to open your access panel when it comes time to change your water, and ensure it won't leave your backyard feeling cramped or crowded.
3. How Do You Want to Use It?
Lastly, how you plan to use your swim spa will also play a vital role in which one would be best suited for your needs.
For example, if your main goal with your swim spa is to stay fit by adding daily swim into your routine, you'll need to consider the size of your swim area.
Consider your height and how well you would be able to swim in the provided space.
Swim spas come in various lengths, allowing swimmers of all heights to enjoy a quality swim, without feeling cramped. When choosing yours, ensure it has a long enough swim area.
Alternatively, if you plan to use your swim spa for bodyweight exercises as well, it may be important to consider one that has a gripped floor, allowing you maximum stability as you work out.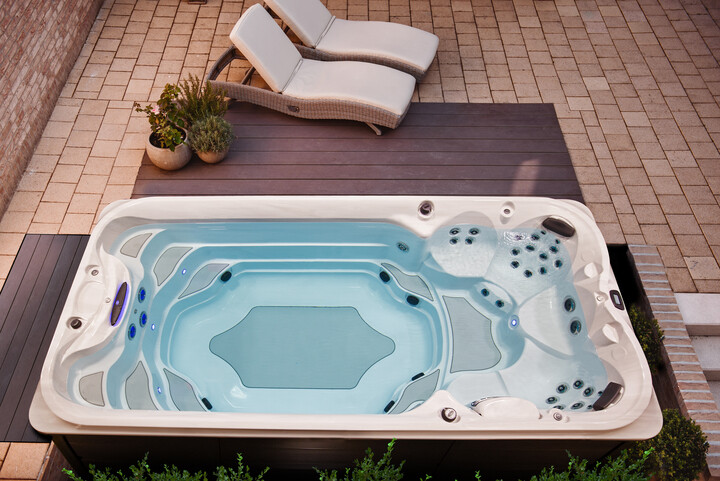 4 Outdoor Swim Spas To Update Your Backyard Fun
At Premium Home Leisure, we know how important it is to find a swim spa that perfectly aligns with your needs.
That's why we stock two of the industry-leading brands, providing not only top-quality swim spas but also ensuring various needs can be met.
Let's explore some of the best options on our showroom floor.
Jacuzzi®️ Swim Spas
If you're looking for a swim spa that's both powerful, exceptionally built, and long-lasting, Jacuzzi®️ Swim Spas are a clear solution.
These swim spas are made with top-quality materials, and have been designed with your experience in mind.
Not only do they provide a smooth swimming experience, but with the Soft Stride floor mat, they're also a great option for anyone who enjoys a variety of workouts.
J-13 PowerPlay™️ Swim Spa
If you're looking for a swim spa to keep your kids entertained all year long without compromising on your hydrotherapy options, the J-13 PowerPlay™️ Swim Spa is a great option.
This model may be one of the smaller options, but it will feel anything but compact once you get in the water.
Boasting two bench seats along the sides, and four corner seats, this outdoor swim spa can fit eight adults, while still providing the kids plenty of room to splash around.
J-19 PowerActive™️ Swim Spa
If you're looking for something that focuses more on fitness possibilities, the J-19 PowerActive™️ Swim Spa is the way to go.
With its extensive length, this swim spa provides a large swim area, providing maximum versatility while maintaining the powerful current these swim spas are known for.
With multiple shelves built throughout this model, you can enjoy adding a variety of exercises into your routine, from squats to pushups and even lunges!
Explore what makes these swim spas so unique in this short video.
SwimLife™️ Swim Spas
SwimLife™️ Swim Spas are another industry-leading brand, offering a robust experience that can easily meet a wide array of needs.
Not only are these spas expertly pair hydrotherapy and exercise, but they were designed to withstand the Canadian winters, ensuring maximum temperature regulation while maintaining their energy efficiency.
SwimExpert SwimStream 14 Swim Spa
Whether you're working with a smaller space or simply want a more compact design, the Swim Expert SwimStream 14 Swim Spa is an ideal option.
With two deep seats tucked into the corners, you can experience a full-body hydromassage, each one targeting different muscles in your back while easing your weary feat.
This swim spa also features a textured floor, ensuring you can move through any workout without losing your grip.
SwimFit DualStream 19 Swim Spa
The last swim spa on our list is truly unique, offering maximum control over the temperature of your water.
The SwimFit DualStream 19 Swim Spa boasts an intuitive split design, separating the hot tub section from the swim area.
This division gives you the option to adjust the temperature of each section separately, keeping the hot tub toasty warm and the swim area lower for a comfortable workout.
Furthermore, because of its design, there is ample seating in this swim spa, with enough room for five and a full lounger for a neck-to-toe massage!
See it in action in this video!
SwimLife DualStream Model Video
Exercises To Do in an Outdoor Swim Spa
Do you enjoy mixing up your workout to strengthen various muscle groups?
While outdoor swim spas provide an unmatched stationary swim experience, they're also the perfect place to challenge yourself with some bodyweight exercises.
Whether you're just beginning your fitness journey, or have been a long-time fitness enthusiast, here are some exercises that are perfect for your swim spa.
Squats
Push-ups
Lunges
Rowing
Bicep curls (with water weights)
Crunches
Flutter kicks
Best of all, with an outdoor swim spa, you can easily reward yourself while giving your body the care it needs as you settle into one of the hot tub seats!
Outdoor Swim Spas for Sale in Saskatoon
If you're ready to transform your backyard into your own personal oasis with an outdoor swim spa, Premium Home Leisure is here to help.
With a lineup of premium swim spas from the leading brands above, there's sure to be a model to seamlessly meet your needs.
Contact us, or visit our showroom to explore your options in person. We'd love to help you discover your dream swim spa today!