Hot tubs are a coveted backyard addition, with many people opting to transform their backyards into a relaxing oasis to escape the hustle and bustle of daily life.
One of the first things people ask about when they're considering investing in a home spa is how much it's going to cost each month.
While financing makes it possible to easily afford your dream spa with manageable monthly prices, that's not quite the monthly cost many are referring to.
Instead, their focus is on energy costs, and rightfully so. Hot tubs have to keep a body of water toasty warm every day of the year, which means a change in your monthly bills.
Luckily, energy-efficient hot tubs have made it possible to keep energy costs low while providing the same quality experience you crave!
If your interest is peaked, keep reading!
In this article, you'll find everything you need to know about energy-efficient hot tubs, including some stunning hot tubs that can provide a premium experience without excess monthly costs!
What Factors Affect a Hot Tub's Monthly Costs?
Hot tubs have seen incredible advancements over the years, making it possible to significantly reduce their energy needs without compromising your experience.
In fact, they've done the exact opposite!
Not only are they more energy efficient, but many of the features designed to maximize performance also make maintenance easier by providing cleaner water!
When it comes to energy-efficient hot tubs, there are a variety of things that impact your monthly bills.
Its Size
Smaller hot tubs generally offer lower energy expenses, simply for the fact they don't have as much water to heat and circulate.
This can have a fairly significant impact on your energy efficiency.
However, many larger hot tubs have begun including advanced features to improve their performance and reduce running costs.
This has made them strong contenders for those seeking an energy-efficient hot tub that's spacious enough for their whole family.
Your Frequency of Use
Another aspect that will influence your spa's energy efficiency is how often you're using it.
Each time you're enjoying the warm depths of your spa, your heater has to work harder to replace the heat that's being lost.
Additionally, as you enjoy a luxury hydromassage, your pump is working to keep the jets running, which also increases its energy consumption.
However, this is twofold. Your hot tub needs to circulate the water each day anyway, which is being done as you target those aching muscles with the jets.
This can reduce the amount of time it needs to run while you're outside the spa, making the most of your energy usage!
The Climate
Many hot tubs have been designed with various temperatures in mind, often designed to withstand drastic temperature fluctuations from summer to winter.
With that said, as the temperature drops, you'll often see a slight increase in your energy bills simply due to the fact that your system has to work harder to maintain your water temperature.
This is especially true when you enjoy your spa on chilly winter evenings since heat is being lost much faster than during the summer.
It's Voltage Requirements
One major feature of any hot tub that will influence its overall energy efficiency is the amount of voltage it requires to run.
Many larger hot tubs require a 240VAC, but there are other models that offer a similar experience but only require a 120V electrical connection.
The Type of Insulation
The insulation in your hot tub plays a crucial role in its overall efficiency. Insulation works by trapping heat, ensuring it can't escape from below your shell.
Hot tub insulation comes in a variety of styles, with many modern models boasting full-foam insulation that locks in heat.
Alternatively, some hot tubs have the option of upgrading to a more advanced insulation that not only reduces heat loss but also reflects any heat back toward your shell!
The Circulation Pump
Your spa's filtration system works to keep your water clean by pulling out impurities and contaminants.
This requires the pump to circulate water through your system so it can pass through your filters.
Some pumps have been designed with efficiency in mind, ensuring water can easily move through your hot tub without much stress being put on the system.
Your Cover Quality
Lastly, your cover is easily one aspect of your spa that can have the most significant impact on its energy efficiency.
Your cover acts as a barrier between your water and the outside world, ensuring it's not only protected from debris, but also from the cold air above.
Quality covers offer this insulation to minimize heat loss, pushing any heat coming off your water back into its depths.
This keeps your water toasty warm with less work, maximizing the efficiency of your spa!
Captivating Energy-Efficient Hot Tubs in 2023
The Jacuzzi®️ Brand has much to offer, and has been leading the industry in innovation for over 5 decades!
They've cultivated a premium experience tucked inside an efficient design, with models boasting a wide range of voltages, sizes, and operating costs.
This made it easier for everyone to enjoy the benefits of a hot tub!
Let's dive into some of the best energy-efficient models offered by Jacuzzi®️ Hot Tubs!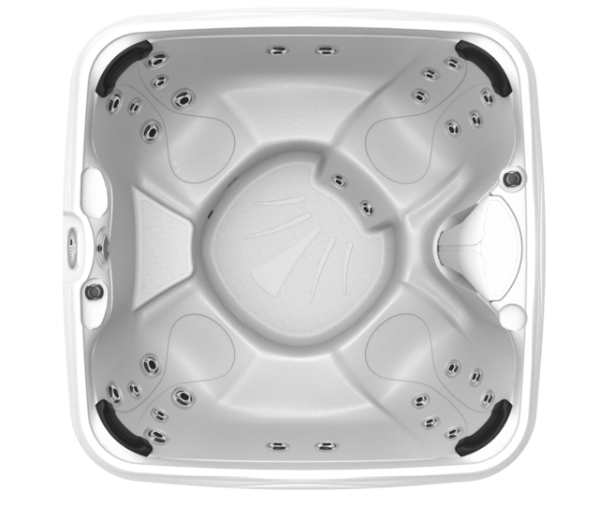 Echo™️ Hot Tub
Remember how we said size plays an important role in efficiency?
If you were worried you wouldn't be able to find a large enough model for your family and friends that doesn't result in high energy costs, think again!
The Echo™️ model from the Jacuzzi®️ Play™️ Collection boasts a spacious, unobstructed interior, with enough seating for seven adults.
This 120V Plug n' Play model makes installation truly effortless, getting you up and running and into the water in no time!
Made with patented Syncrylic®️ material and outfitted with full-foam insulation, this hot tub offers a premium design that maximizes efficiency!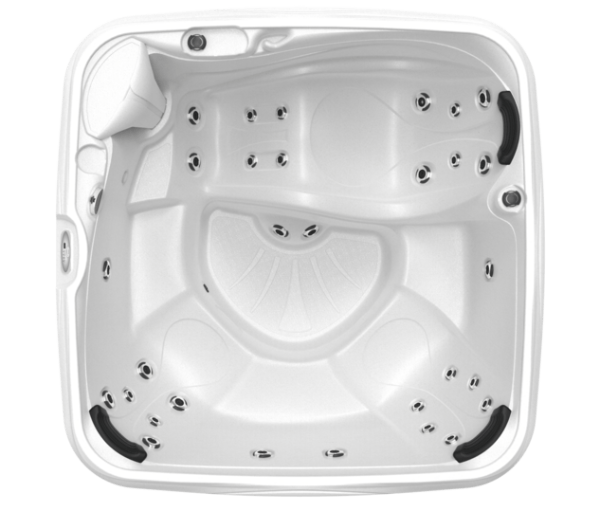 Soul™️ Model
Looking for the same roomy interior as the model above but can't imagine your spa not having lounge seating?
The Soul™️ hot tub will have you kicking back and relaxing with its full lounger spanning one side of this spa, lined with jets to ease weary muscles from shoulders to toes.
With full foam insulation and simple filtration, this model can keep run times to a minimum while minimizing heat loss.
When paired with the ProLast™️ Cover, you can experience even better results, keeping energy bills low while embracing the ultra-affordability of this spa!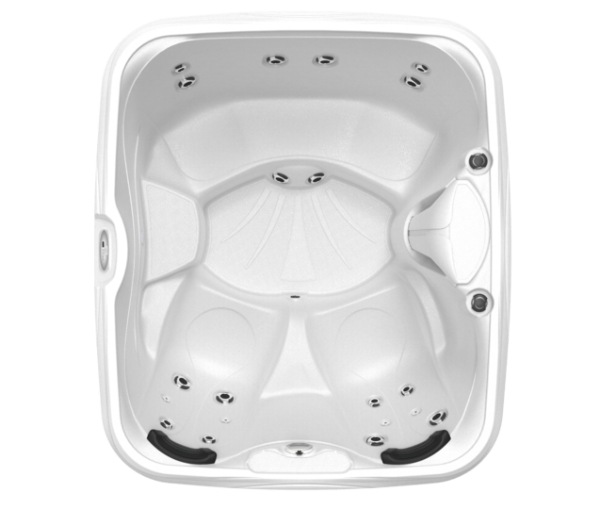 Mood™️ Hot Tub
The last model in the Jacuzzi®️ Play™️ Collection, the Mood™️ model provides a more intimate setting.
With bench seating hugging one side of the spa, and two jet-lined seats tucked into the opposite corners, this model is just as good for socializing as it is for a quiet evening reconnecting with your loved one.
Seating five, this model provides ample flexibility, from the massage you need each day, to the atmosphere you want to embrace upon entering its crystal-clear waters.
Boasting the CLEARRAY®️ Water Management System that's standard on all Jacuzzi®️ hot tubs, you can harness the same sanitation system used in water treatment plants and hospitals!
Combining UV-C light and oxygen, this system keeps bacteria to a minimum, all without the need for excess chemicals.
Best of all, with its convertible electrical system, this model allows you to take charge of its efficiency, giving you the choice between 120V or 240V.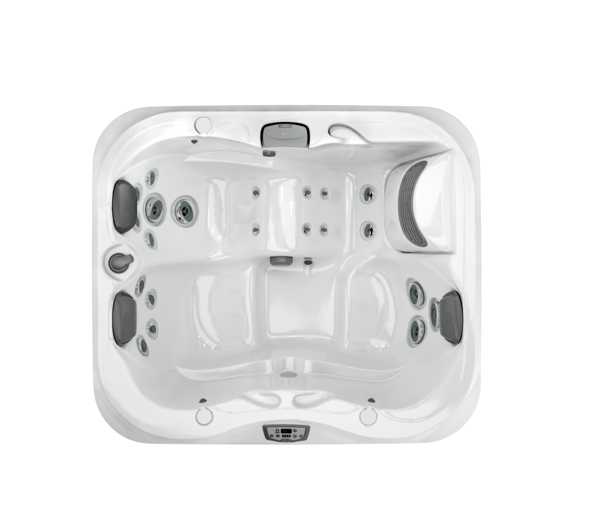 J-315™️ Model
If you're looking to embrace a more premium design without sacrificing efficiency, the J-315™️ hot tub is your perfect match.
This three-person hot tub is the perfect combination of intimacy and luxury, with its compact size, two forward-facing seats, and lounger along one side.
This model boasts an impressive range of features with a key focus on optimizing its performance.
The ProStream™️ Circulation Pump works to keep water flowing without excess stress on your system, while the Floating Propolymer™️ Foundation adds a layer of protection and reduces the impacts of a cold foundation.
Additionally, this model has a wide range of optional features you can add on, taking its efficiency even further.
From the SmartTub™️ system to the SmartSeal™️ insulation, this hot tub truly allows you to maximize its efficiency to match your unique needs.
5 Tips to Maintain The Energy Efficiency of Your Hot Tub
The design of your hot tub can only go so far, and even those with various features that enhance its efficiency can quickly become more expensive to run without the right care.
With the right steps, you can keep your hot tub in prime condition, and support the longevity of its efficiency.
1. Clean The Filters Regularly
Your filtration system plays a crucial role in your entire circulation system, allowing water to pass through the pleats and flow back into your spa.
Over time, this results in dirt and grime building up, reducing the flow of water, which in turn, impacts your efficiency.
Cleaning your filters on a regular basis will help keep your circulation system functioning properly, saving you from suddenly rising energy costs.
Watch this short video to learn how to best clean your filters.
2. Keep Your Water Balanced & Clean
The quality of your water is another aspect that can significantly impact your spa's performance.
In large part, this is due to the effects improperly balanced water can have on the various parts of your system.
While water that's too acidic (a pH above 7.8), can cause corrosion, eating away at your heating element and reducing its performance.
On the other hand, if your water has become too basic (a pH below 7.2), scale can build up throughout your system.
This can reduce the flow of water through your pipes, while also blocking the heat coming off your element, leading to poorly heated water and longer run times to reach your desired temperature.
3. Use Line Cleaner
Speaking of your pipes, giving them a good clean every few months is a good way to keep them free from any buildup and reduce the risk of blockages.
Simply add a line cleaner to your hot tub water 20 minutes before your quarterly water change, keeping your jets running on low to circulate the cleaner through your system.
4. Use a Cover That's in Good Condition
As mentioned above, your cover is essential in maximizing your spa's efficiency.
Not only do you want to ensure you invest in a durable, thick cover, but you also want to ensure it stays in good condition and is replaced once it shows signs of damage.
Hot tub covers don't last as long as your spa and will need to be replaced every 5-7 years.
To maximize the lifespan of your cover, ensure you properly clean it and use a UV protectant to reduce the impact the sun has on it.
5. Opt for The SmartTub™️ System
Lastly, if you have a Jacuzzi®️ hot tub, adding on the SmartTub™️ System is a powerful way to enhance your efficiency.
This innovative system allows you to gain advanced control over your spa and discover valuable insights into its performance.
One way this system can support your efficiency is through the "smart heat mode." This feature gives you advanced control over your water temperature, reducing its heating demands on days you choose not to use your spa to minimize the power it consumes each day.
Energy-Efficient Hot Tubs in Saskatoon
At Premium Home Leisure, we stock a range of Jacuzzi®️ Hot Tubs, ensuring there's a solution to meet everyone's needs.
Our team of experts are well versed in every spa on our showroom floor, and can easily help you find the model that best matches your expectations.
Contact us today, or visit our showroom to explore your options in person.